KIRSTEN G.
TASTY ART GURL | USA
read our interview with kirsten below
HOUSE OF THEODORA CHATS TO kirsten g.
KIRSTEN CREATES EXPLICIT EROTIC ART WITH INK UNDER HER ART NAME "TASTY ART GURL". We talked to her ABOUT HER JOURNEY INTO EROTICA & HOW HER ART HAS ENCOURAGED HER TEENAGE DAUGHTERS TO EMBRACE THEIR SEXUALITY.
How did you get started with Tasty Art Gurl? I understand your other job is a dental hygienist! That's quite different!
I studied illustration in college and my original goal was to be a freelance illustrator, but life went another way. I got married, had two daughters, and I was getting illustration jobs here and there. But, then the marriage went south and I needed to find a more reliable source of income. Dental hygiene just presented itself and was, thankfully, a good fit for me.
Your illustrations are wonderfully explicit. Where do you draw your inspiration from?
Porn sites and movies, mostly. (Giggle!)
Can you describe your artistic process?
I like to create images that evoke a feeling within myself. If I see an image or a "shot" that makes me linger, then I want to recreate it. Then I sketch, resketch, and resketch, transfer to Bristol and start inking. I like to make the shading exact and realistic in some instances, but I also like experimenting with the line work for other illustrations. It started with the way I drew any female's hair. I like to try to suggest movement or even breath. I just want to communicate the actual feeling. I hope that makes sense.
You tend to work a lot in black and white, do you prefer this over colour?
I don't think I have a preference. Many of the illustrations I've done, I still feel are best in black and white. I've actually gone back and coloured some existing work, because I thought it would improve it. I'm starting to experiment more with watercolours, which I like, but I always seem to stay with black and white. I just always feel it conveys the feeling best. I guess I do have a preference, duh.
I understand you have teenage daughters. Navigating your sexuality when you're a teenage girl is tough. Has your openness with sexual expression encouraged them to have a more open and honest relationship with their own sexuality?
Originally, I was going to hide this work from them and that proved to be impossible. So, I explained to them, "this is what I'm doing now. It's sexual, it's explicit, but it's also artistic expression. People have personal, sexual thoughts and fantasies, and there is nothing wrong with it. You can ask me anything about it, you can tell me if you think it's gross, you can tell me you hate it or you love it." There were a lot of giggles when I first started, my oldest daughter does NOT like any of the BDSM illustrations I've done. My oldest daughter has also told me, she knows she can come to me and talk to me about any intimate issue she might have with boys. She has told me, because of this work, there's an openness between us and a comfort she feels, she can talk to me about anything. I was so happy about that. The girls only see MY illustrations. I am not sitting around watching pornos with them.
What's it like being a female artist in the erotic art space?
I'm just trying to get my work noticed and appreciated. Male or female, erotic or not. I DO like the fact that I am a woman who enjoys drawing sex, it can be empowering. It can also be annoying at times. Yes, people still make the assumption of, "oh! You're an erotic artist? You must love sex all the time and want to talk to ME about sex… right now! Here's a picture of my penis!!" I'm old enough not to really care about that anymore.
What's one important message you wish to communicate with your art?
Sex is a part of life and should be enjoyable. People should not be condemned for what their fantasies are or who they love. Love is love and all bodies are beautiful. Too much?
What are you working on?
I'm trying to get my website up to date, I'm finishing a commission and I have another to start. And I have another idea I want to work on… so a few things.
Who are three females that inspire you?
Only 3?? Well, my daughters everyday, my mom, Frida Kahlo(!), Madonna (still), oh my god, Georgia O'Keefe!!… Betty White! Melissa McCarthy! Kathy Griffin! Jessica Lange! Okay, I'll stop.
What work of your own has had the biggest impact on you and why?
Whenever I've drawn something that is "not my thing", so to speak. When I have drawn someone else's fantasy and found the beauty within it. It's so easy to judge and dismiss what we cannot understand. I'm so happy that I've been able to look beyond what is beautiful for just me and create something that is beautiful for someone else.
FAST FACTS
LOCATION:
WEBSITE: www.tastyartgurl.com
EMAIL: klorz976@aol.com
INSTAGRAM: @tastyartgurl
TYPE OF ART: Illustration
PREFERRED MEDIUMS: pen & ink
SIZE RANGE: 9 - 12 inches but can do larger on request
OTHER DESIGN PRODUCTS: on request
PRICE RANGE: $25-60 USD, contact for commission prices
COMMISSIONS: yes
WAITING TIME FOR COMMISSIONS: a few days for smaller works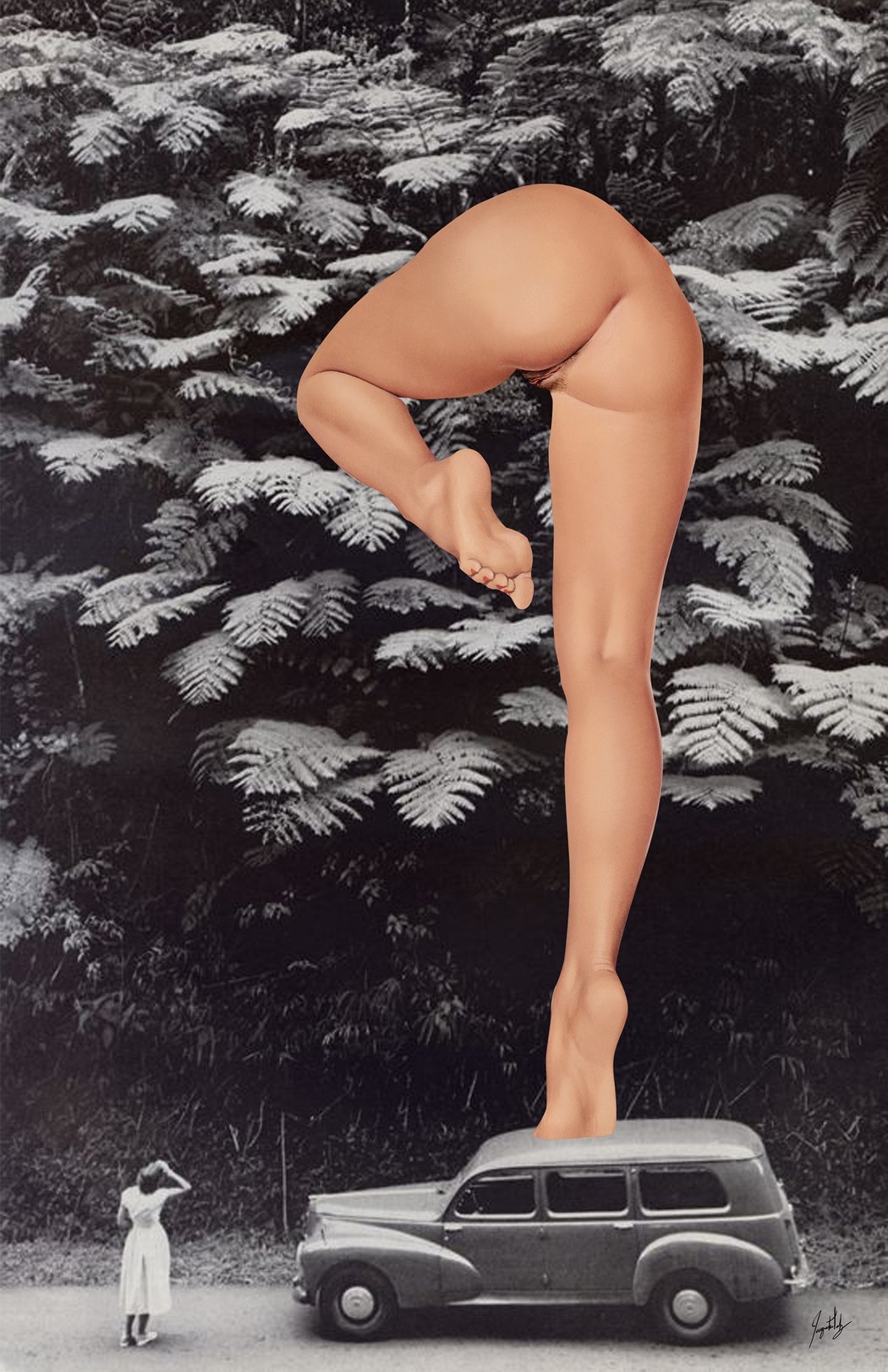 CANADIAN BASED ARTIST, JACQUELINE MAK, CREATES DIGITAL COLLAGES THAT AIM TO EXPRESS A WOMAN'S RIGHT TO SEXUAL FREEDOM.
AURORA IS A MELBOURNE BASED ARTIST. HER WORK FOCUSES HEAVILY ON FEMALE SEXUALITY AND EXPLORES THEMES OF SEX, GENDER, BODY IMAGE, RELATIONSHIPS AND EMOTIONAL FRAGILITY