MILENA WALTER
VEGAN LEATHER ACCESSORIES | BABY TURNS BLUE, PARIS, FRANCE
read our interview with founder of Baby Turns Blue, Milena Walter, below
HOUSE OF THEODORA CHATS TO MILENA WALTER
MILENA WALTER IS THE FOUNDER & artistic director OF PARIS LABEL BABY TURNS BLUE. HER DESIGNS ARE MODERN AND SLEEK WITH AN EROTIC EDGE. WE SPOKE TO HER ABOUT HER DRIVE TO DESIGN PIECES THAT ARE NOT ONLY SENSUAL & STRIKING BUT ALSO SUSTAINABLE.
You create leather accessories under the label Baby Turns Blue. Can you tell us about your journey in becoming a designer?
The brand is new but the journey actually started a while ago. I've done a Master's degree in fashion design at La Cambre. All my collections incorporated leathercraft, I had the chance to learn a lot of techniques very early which of course helped so much for Baby turns Blue.
Where did the inspiration for the label's name come from?
I love post-punk bands, it's the name of one of my favourite tracks from the Virgin Prunes. Not related to choking at all.
What's your design process?
It always starts with photos. I mood board as a sport and take loads of pictures of everything I see. Then it's always the same process: draw on paper, shape it on a Stockman, adjust the volumes and curves for a while, try a first pattern on paper, bake in the oven for 30 minutes, then cut the pattern in fabric, adjust it again and get some feedback from friends helping a lot. Let it dry for 48 hours, add a lot of pepper, rethink it as many times as needed, and cut it in vegan leather.
interview continues below images
Your designs are very modern and clean with an erotic edge. Where do you draw inspiration from?
Thank you ! This is music to my ears. I've always been into fashion, growing up with my mother. But I've also always been passionate about architecture, Paris helps a lot on that. With some distance, I'd say it's definitely my interest in architecture that still helps me a lot to structure my thinking into shapes I'm proud of and ready to share with the outside world. I guess the erotic edge naturally comes with the kind of accessories I make, but I'm more than proud to encourage and trigger it in a refined manner.
You recently decided to start using vegan leather. Can you tell us about your decision to switch to vegan leather?
I always wanted to produce everything in vegan leather as it fits my way of life and principles. But it's a very recent and still at research stage material. It took me almost 7 years to find and be able to source a vegan material that finally matched my expectations regarding quality, durability and finish. I never considered using vegetable-tanned leather (not vegan at all) or PVC leather (which is basically plastic) for a lot of reasons. Older fruit-based alternatives like pineapple or cork leather just weren't good enough. They are textured from the fibers they contain, they don't match with the quality and finish I look for. The Italian Apple skin vegan leather I use is a whole other story. It's a compound developed especially for fashion. I can say with confidence that it looks and feels better than animal leather while outperforming it on many obvious aspects.
What's it like being a designer in Paris?
All day & night free source of inspiration.
interview continues below images
What is it about chokers and harnesses that evokes sensuality?
The common belief would be restraint. But from my point of view it's simply that those accessories accentuate shapes and parts of the body, give posture and refinement. I like to think that my accessories are made for avant-garde and modern women, at ease with the edgy side of Baby turns Blue.
Leather accessories, particularly those that can be seen as an instrument of restraint, have moved from being part of the BDSM community and niche kink scene into mainstream fashion. What is your take on that?
As a former clothing designer, I've always seen the accessory as a crucial component of an entire outfit. Baby turns Blue accessories never stroke me as an artefact of the BDSM community. But yes, it's absolutely true that more and more brands are taking advantage of this scene and building an ephemeral trend, very often denying quality and design research. What I see is that the brands that have been doing chokers and harnesses for a while still do it with brio and creativity. This is what I aim for.
Do you personally have an interest in bondage or restraint?
I wouldn't qualify it as an interest.
In your view, what does it mean for a woman to have power?
From my experience, power is being self-confident enough to build things as much as destroy them.
interview continues below images
Who or what has been the biggest influence on your work?
Alexander McQueen and Brutalist architecture.
What are you currently working on?
New kind of accessories with a more utilitarian approach. Something that could definitely bridge the gap between the edgy side of Baby turns Blue, and everyday looks. We are also trying to source new finishes that still respect our quality standards and engagements.
If you could invite 4 women, living or passed, to share wine with you, who would they be?
Musician Trish Keenan, scientist Marie Curie, designer Ann Demeulemeester and architect Zaha Hadid.
Location: Paris, France
Website: www.babyturnsblue.com
Email: hello@babyturnsblue.com
Social: babyturnsblue
Company Ethos: apples are sexy
Products: : chokers, collars, harnesses, belts, cuffs and bags
Materials: apple skin vegan leather
Price range: 60€ - 400€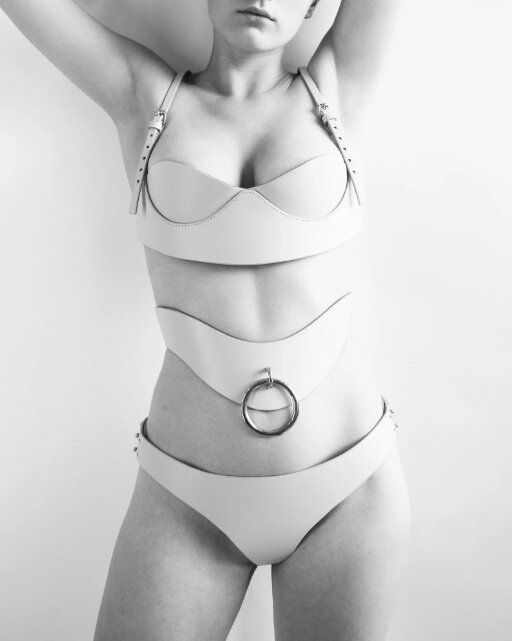 Fleet Ilya came into being with the objective of establishing a label that both informed about the erotic possibilities of leather and restriction as well as bridging a high fashion aesthetic and subversive fantasy.
Daring, provocative and boundary-defying, Betony Vernon is an American-born designer, sexual anthropologist and author based in Paris.