TALES OF LARA
EROTIC SHORT STORIES | USA
read our interview with Tales of Lara
HOUSE OF THEODORA CHATS TO TALES OF LARA
TALES OF LARA IS THE PERSONA OF AN AMERICAN WRITER WHOSE SHORT FORM EROTIC TALES HAVE GARNERED QUITE THE FOLLOWING. SHE MATCHES SULTRY TALES WITH PHOTOGRAPHY THAT NEVER REVEALS HER IDENTITY BUT HINTS AT AN EMPOWERED AND SEXUALLY CONFIDENT FEMININE FORCE WHO MAY, OR MAY NOT BE, CALLED LARA.
Who is Lara and how did she become so interested in erotic storytelling?
Hi, I'm Lara and I love wine, good conversation and rough sex on the beach at sunset.
How did you come to create your persona 'Tales of Lara'?
I've been writing all my life and a few years ago I started dabbling in erotic short stories. It just came to me and it was initially just intended for myself. I loved turning myself on and daydreaming about those moments where life seems more saturated, where I was so fully present and felt connected. In this case, literally "connected" ;) I started publishing my writing to share how desire and lust feels like from the POV of a woman, mainly so other women could see sex depicted in a more relatable, fun and empowering way.

interview continues below story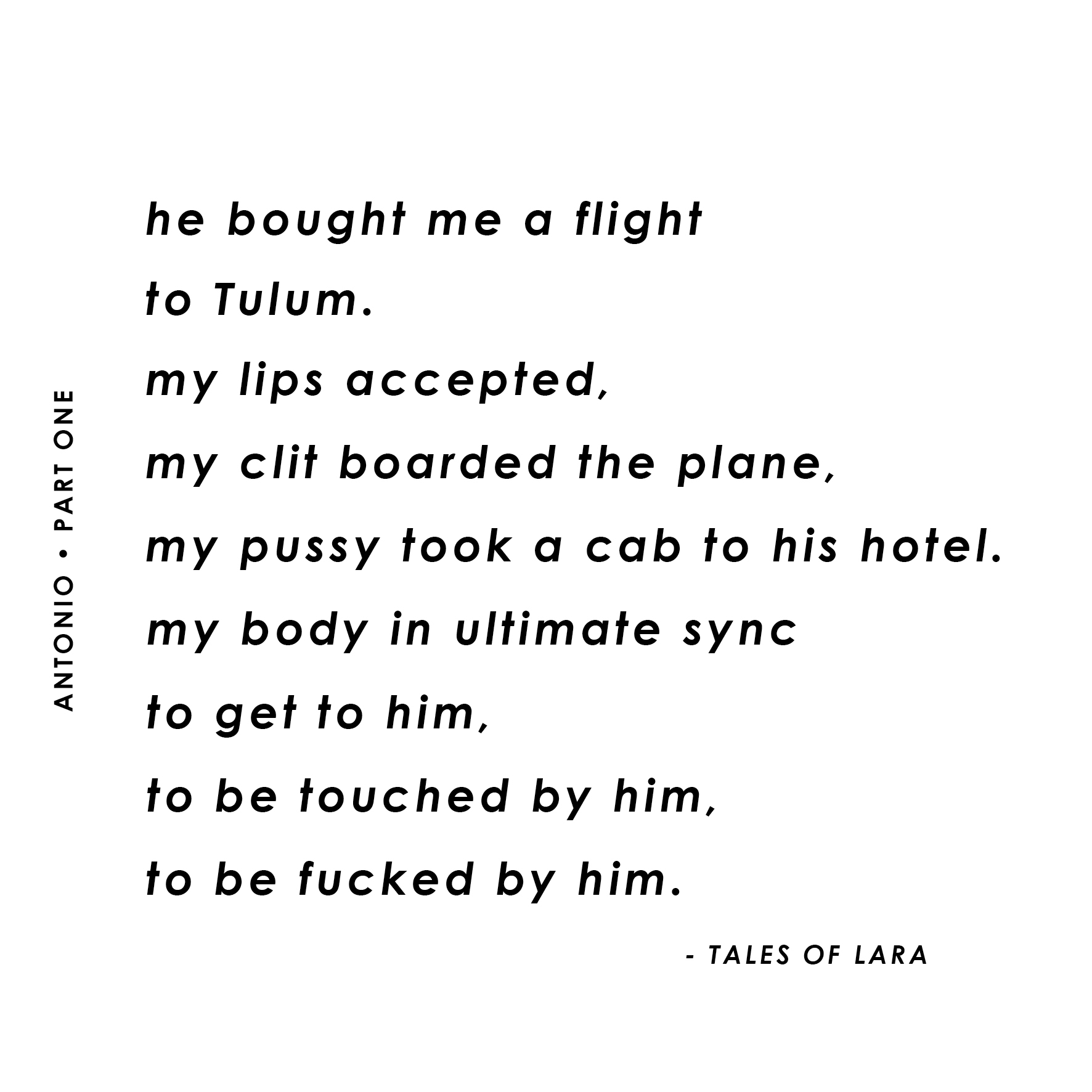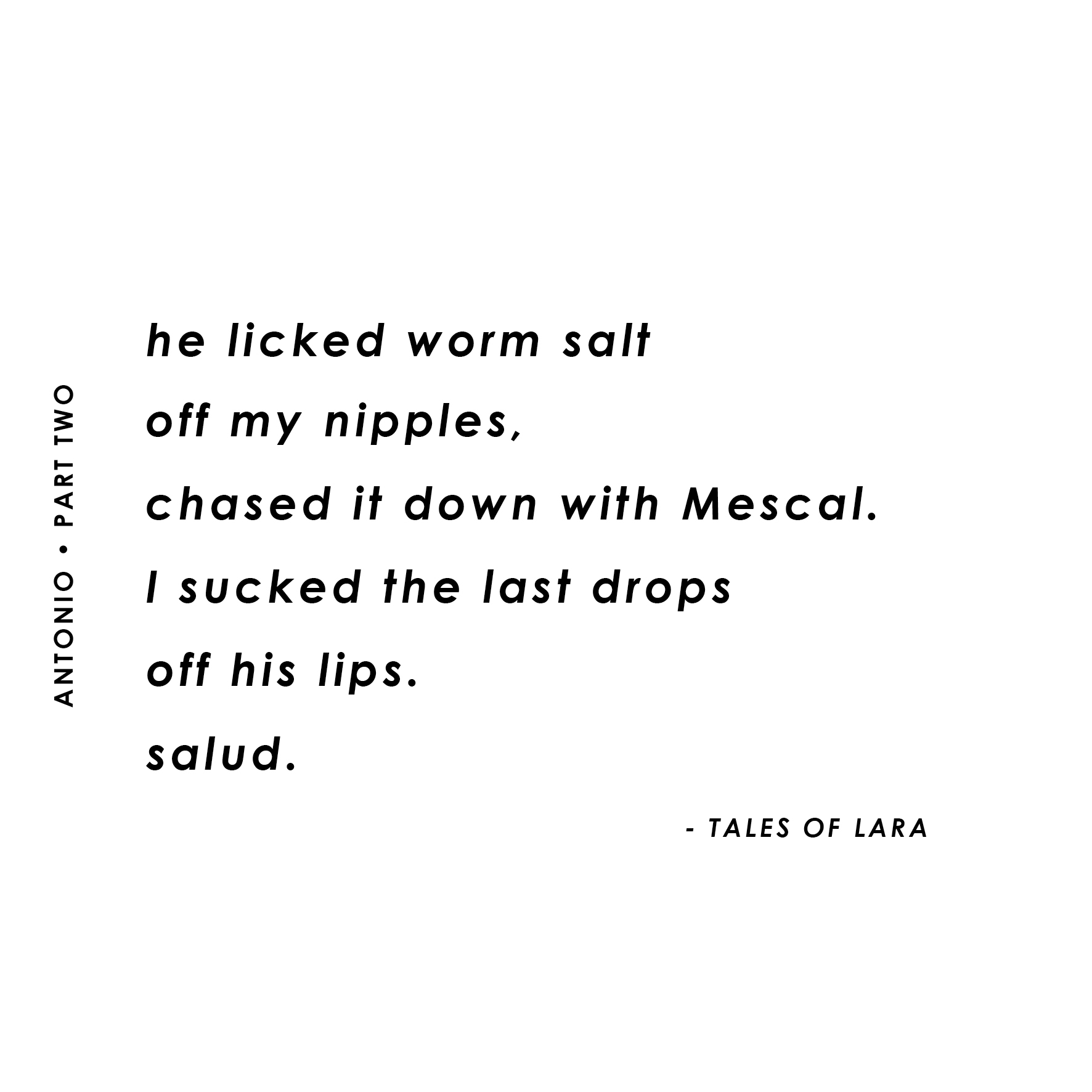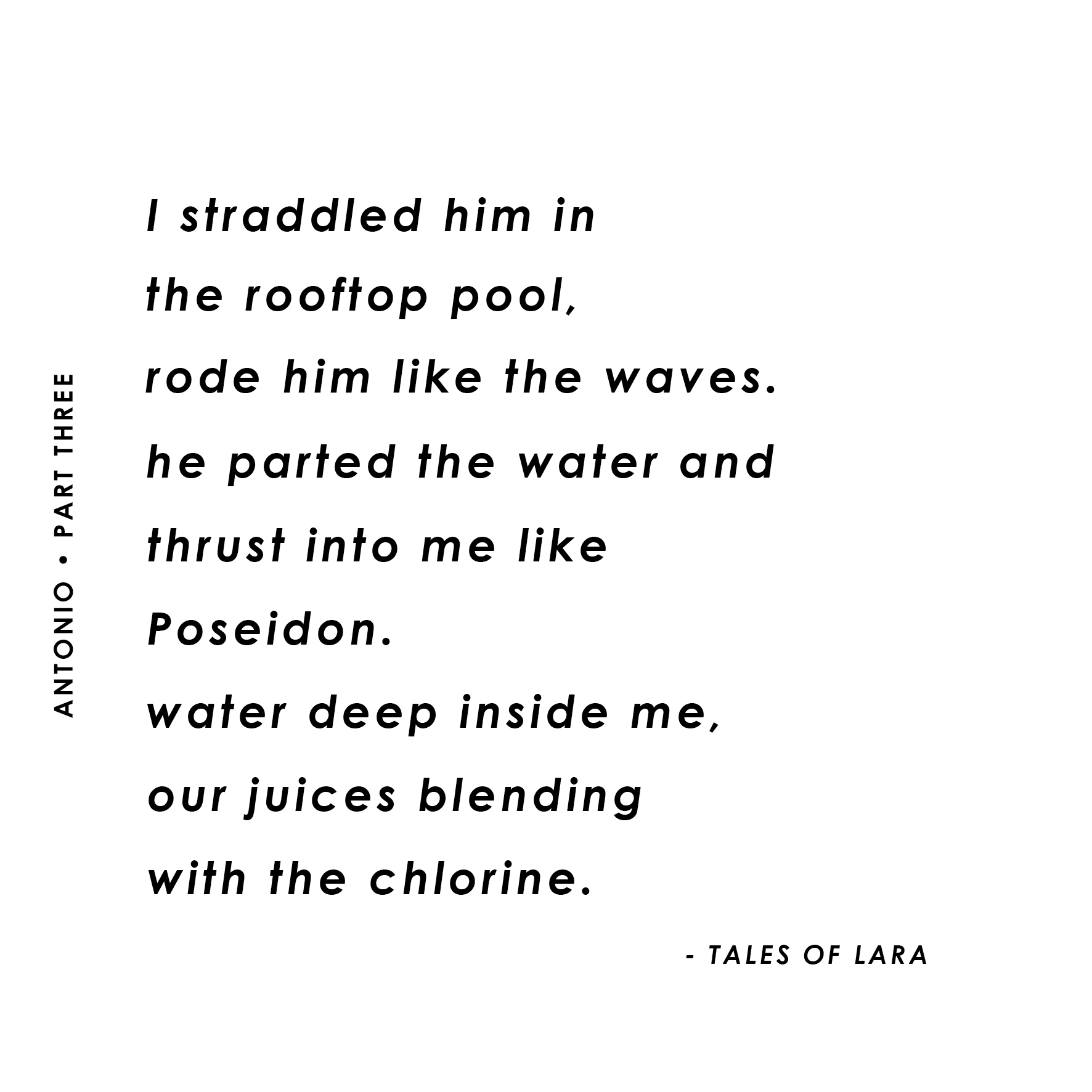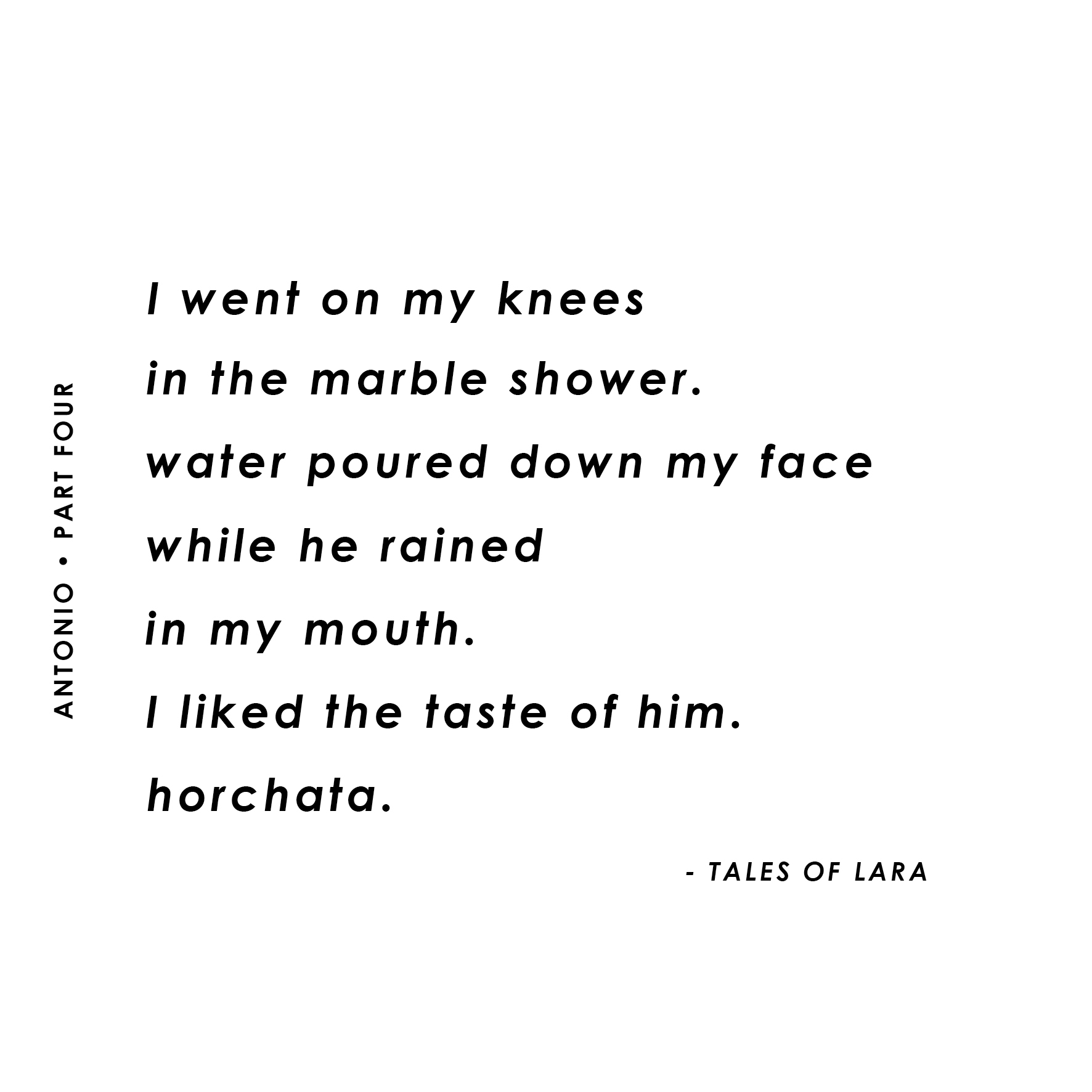 Your writing is published anonymously, as are the photos taken of you. In what ways does this anonymity give you more freedom to create and explore?
Anonymity is a great creative asset, but not in a way that most people assume. In my opinion in allows people to connect to my work on a very intimate level. Since it's not attributed to one specific face or person, it allows people to see themselves within "my world" and hopefully it inspires them to embrace their desire or gives them permission to live that part of themselves.
Where do you get your inspiration for your erotic tales?
A woman on my account asked me recently how she could bring more sensuality into her life and that's just it: life is sensual, it's just how you interact with it. You can find it anywhere; in a beautiful meal, in music, when a breeze caresses your face, in a stranger's smile... And obviously in intimate moments with another person. That way of living inspires my work the most.
The brevity of your writing works so well for Instagram but do you write long form erotica?
I do write long form erotica, that's actually how I got started. But I've discovered how freeing the short form is. It makes you more disciplined, you only have a few words to evoke a feeling, you're forced to distill a moment down to is essence. I'm planning on writing a book though, so there probably will be longer stories as well. Full circle, maybe?!

interview continues below images
You work with a range of photographers, how do you go about finding them and how does the collaboration work?
I love working with people who share a similar sensibility towards art and sensuality but the collaboration process is different every time. The most inspiring part is finding the common denominator in our work, where our visions overlap. Then it's all about creation and play.
In what ways does your writing inspire the photography or vice versa?
Honestly they both boil down to the same thing: that sexuality is part of being a woman and my choice to celebrate it. The photos and the stories are to show that women (or men for that matter) don't have to apologise for loving their bodies, for embracing their desire, or turning themselves and their partner on.
In what ways has writing helped you explore and uncover your own sexual desires?
It's all about permission and no shame: by writing about it I take away the stigma that sexuality is something to hide and in turn it let's me go deeper with my partners. And I didn't mean that in a literally sense, but come to think of it... ;)
Are your tales fiction or non-fiction?
The tales are as real as movies based on true events...
When you're on dates, do you find yourself crafting a tale?
Not really. If you're crafting a tale while being with someone you'd probably miss the most fantastical and exciting part: what's actually going on! Truth is truly stranger and maybe more beautiful than fiction.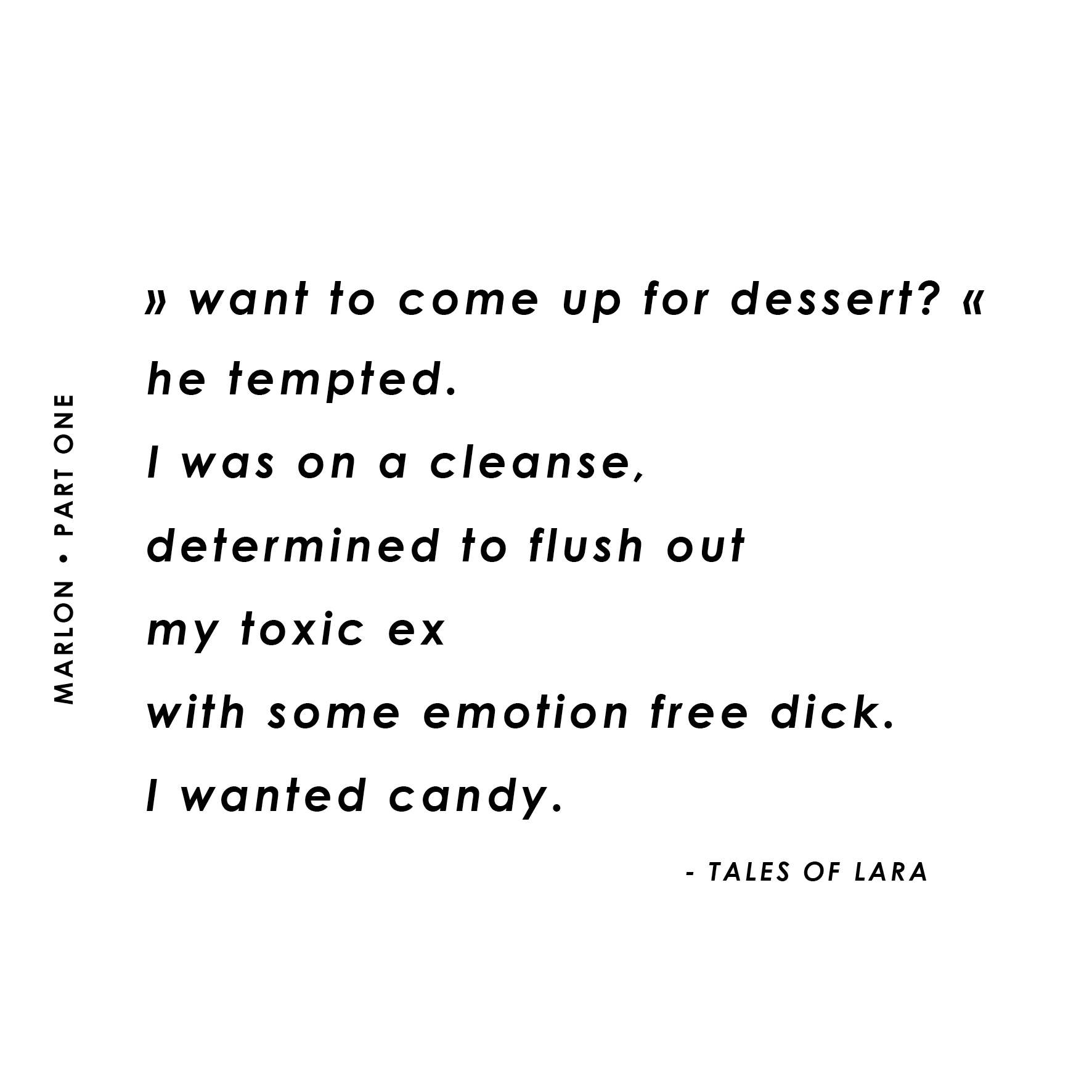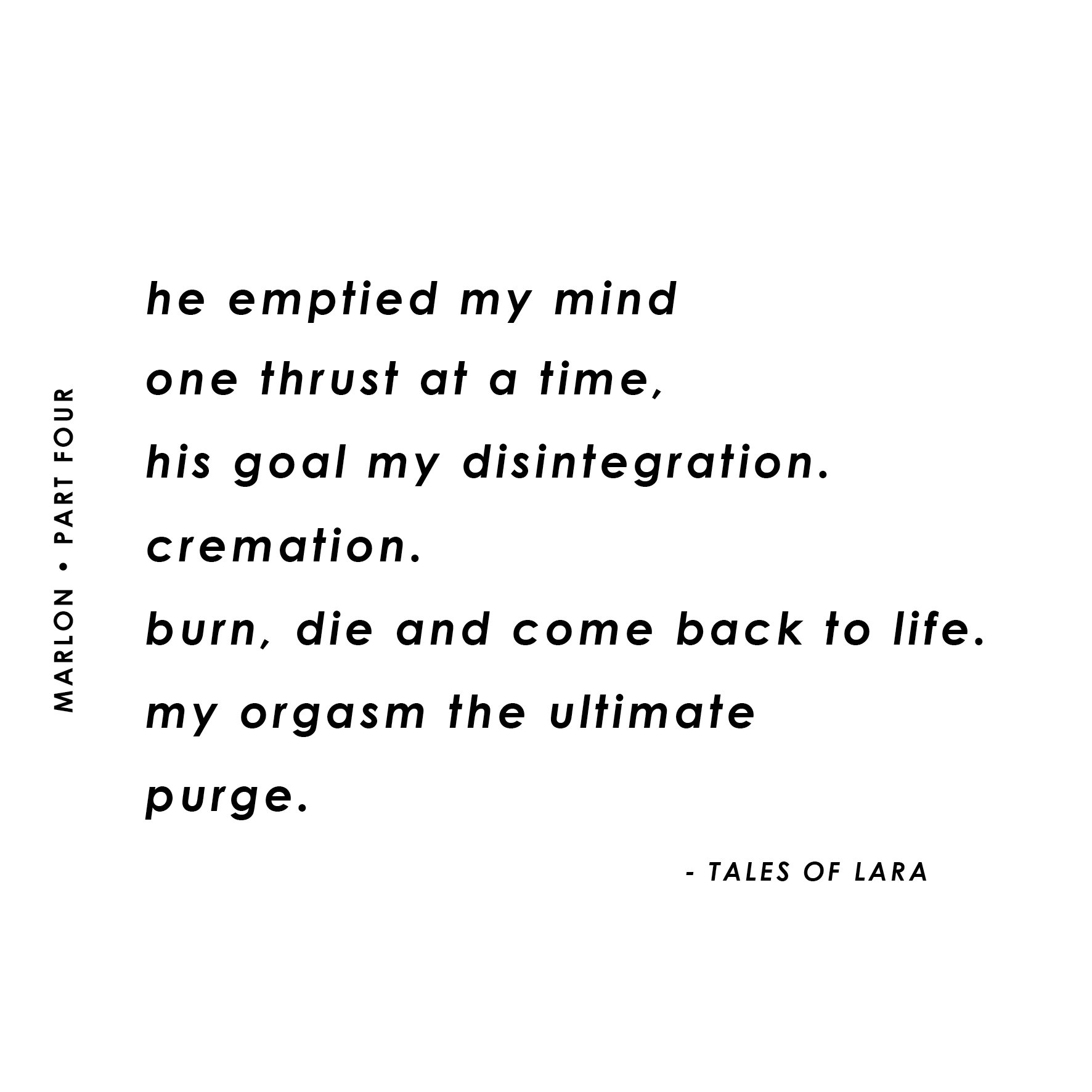 Has writing erotica made you more adventurous in the pursuit of good content?
I actually think it worked the other way around: I became more adventurous and that brought me to writing erotica! Writing has definitely put 'adventures' more in focus though, which is exhilarating and exhausting at times (even though having to think about sex all day isn't the greatest punishment ;)
In your view, what does it mean for a woman to be sexually empowered?
To me it means listening to yourself and getting to know yourself on a physical and spiritual level, whatever that means to you. Understanding your own needs and embracing yourself for who you are. We're all different: for some that means more sex, different sex (as in more connected) or even no sex! There shouldn't be shame involved in any of those options, it should just come from you.
What does pleasure mean to you?
Morning sex and a spontaneous trip to anywhere.
What are your top 5 tips for writing erotic tales?
FEEL IT. It should be truthful, an emotion you've felt even if it's not the exact "motion" or story. The core has to be real to you.
SKIP PORN. Don't write about what you see in porn. Porn's already a fantasy, people want to connect with what YOU have to say.
DON'T CENSOR. Society tells us a lot of things about our sexuality, being uncensored isn't one of them. So at least on the page, let your freak flag fly.
KEEP IT SIMPLE. You don't have to make up a master-slave scenario set in ancient Egypt to grab someone's attention. Sounds fun though...
HAVE FUN. Turn yourself on, laugh, connect to your body. You're writing erotica after all, it better be exciting!
And lastly, how does one get a date with Lara? ;)
I'll ask you out ;)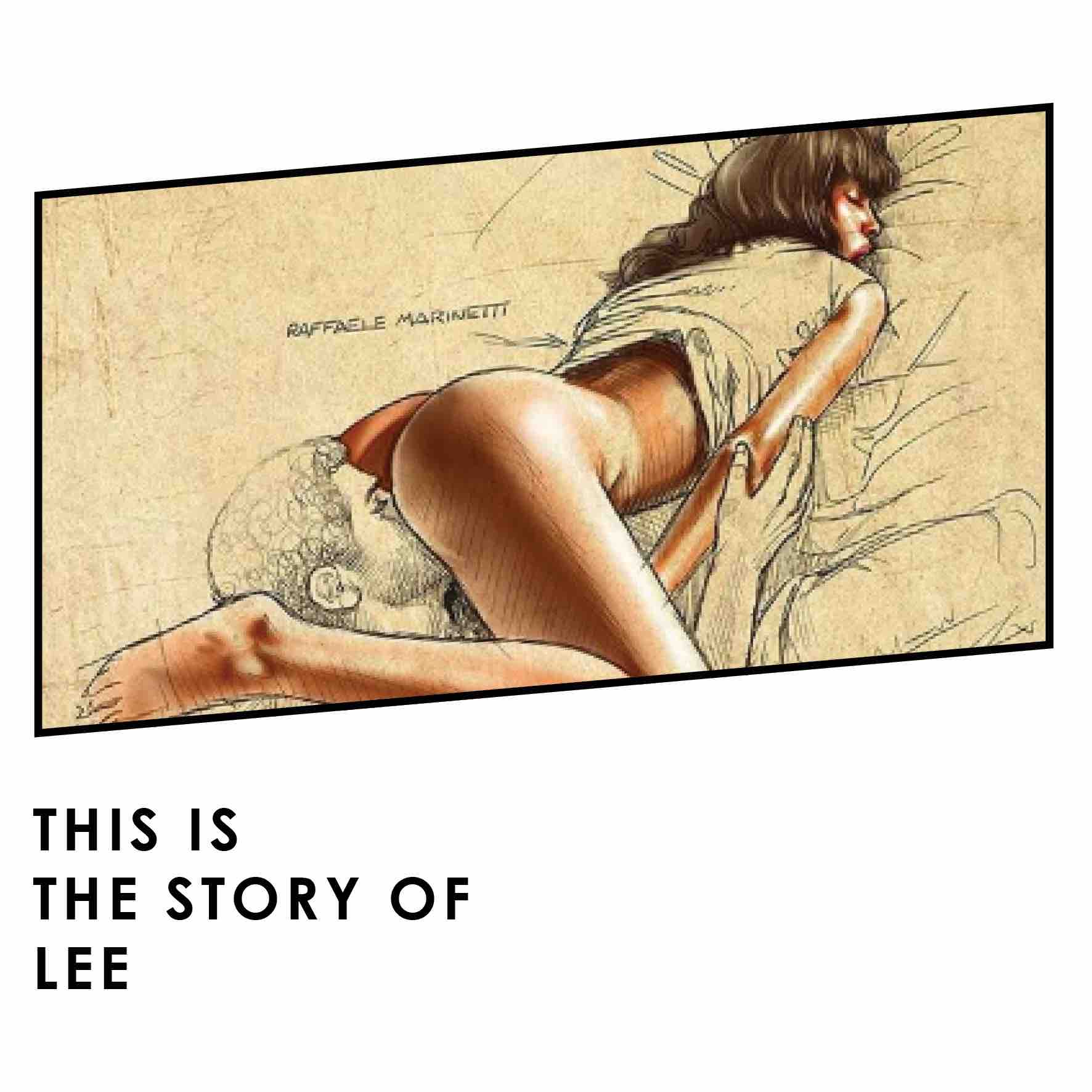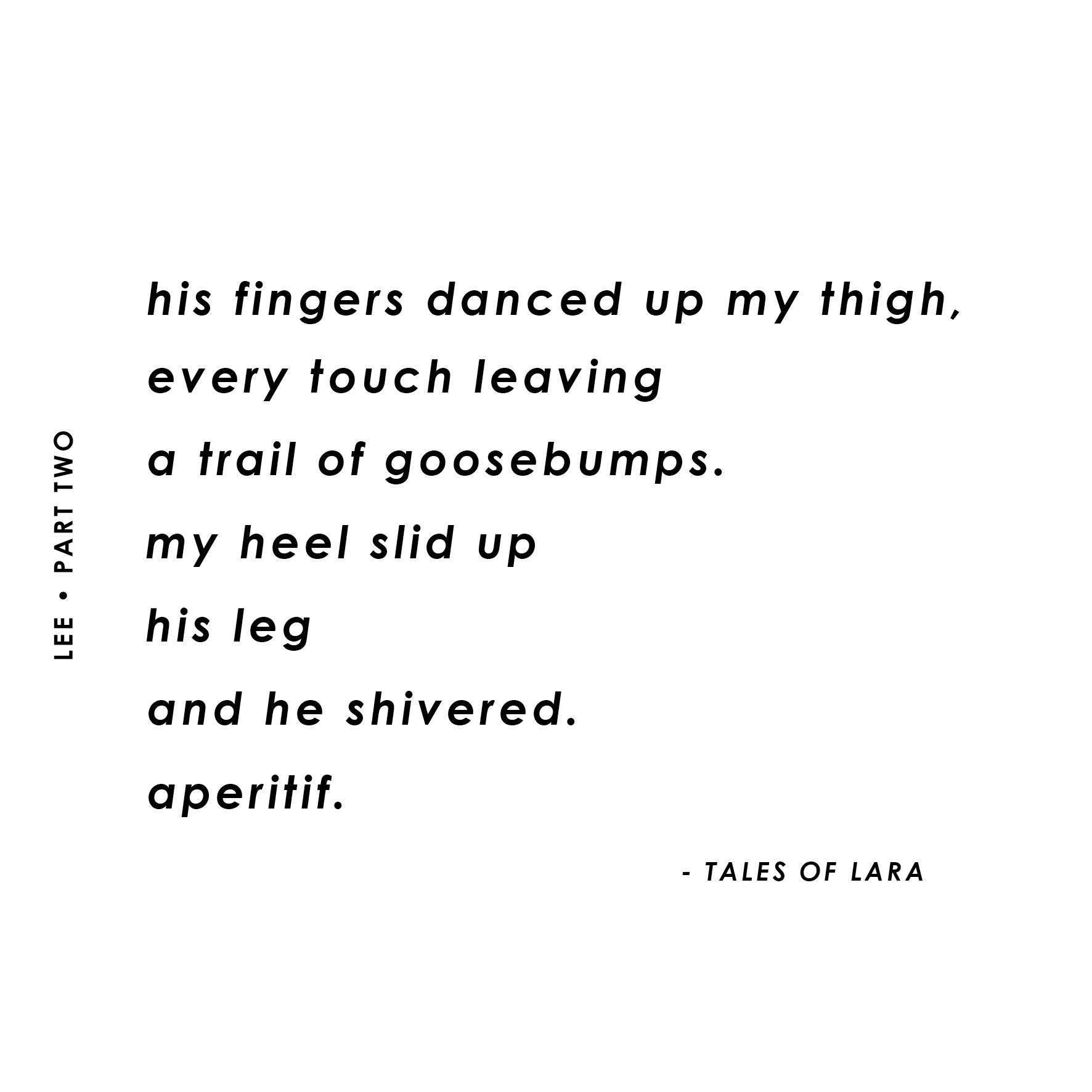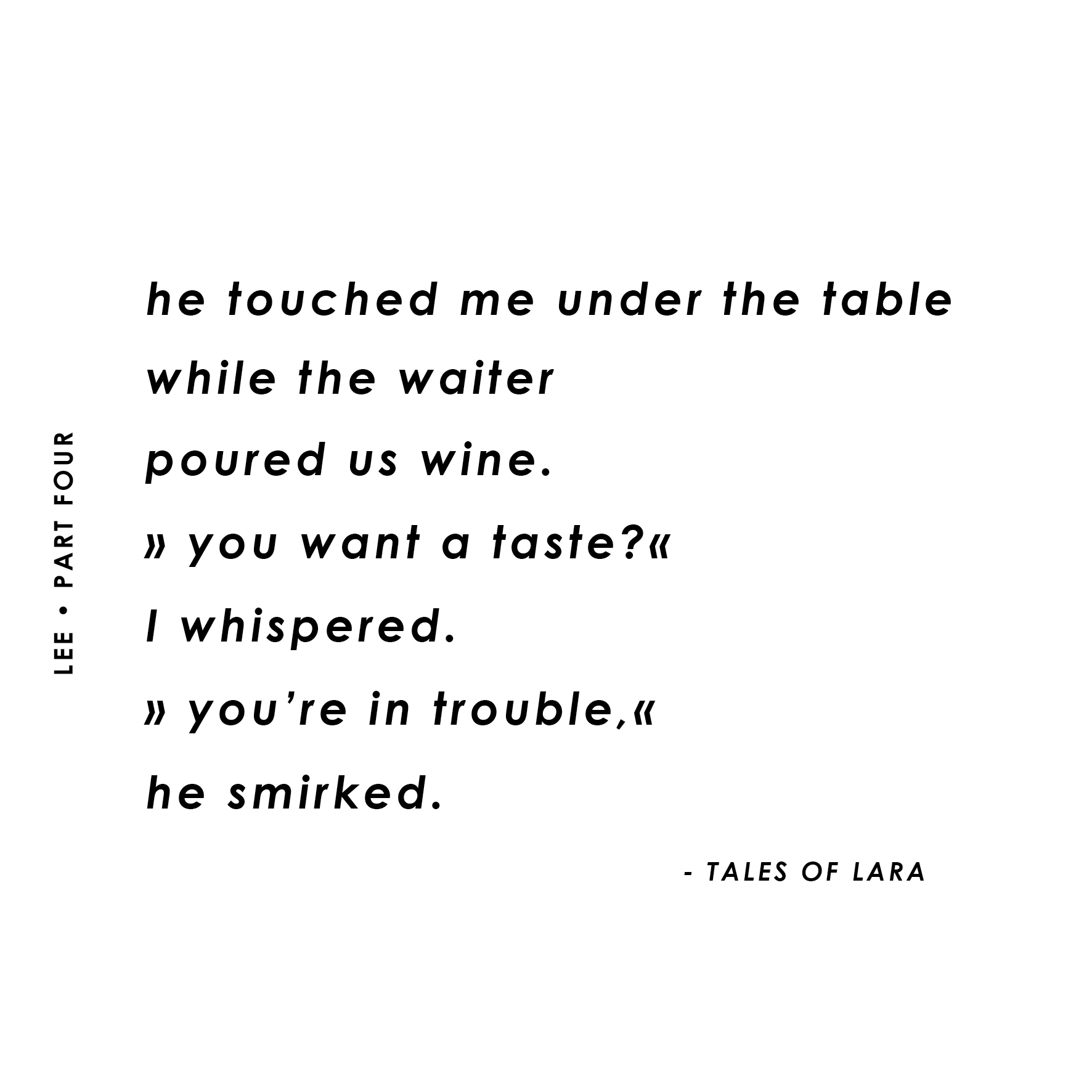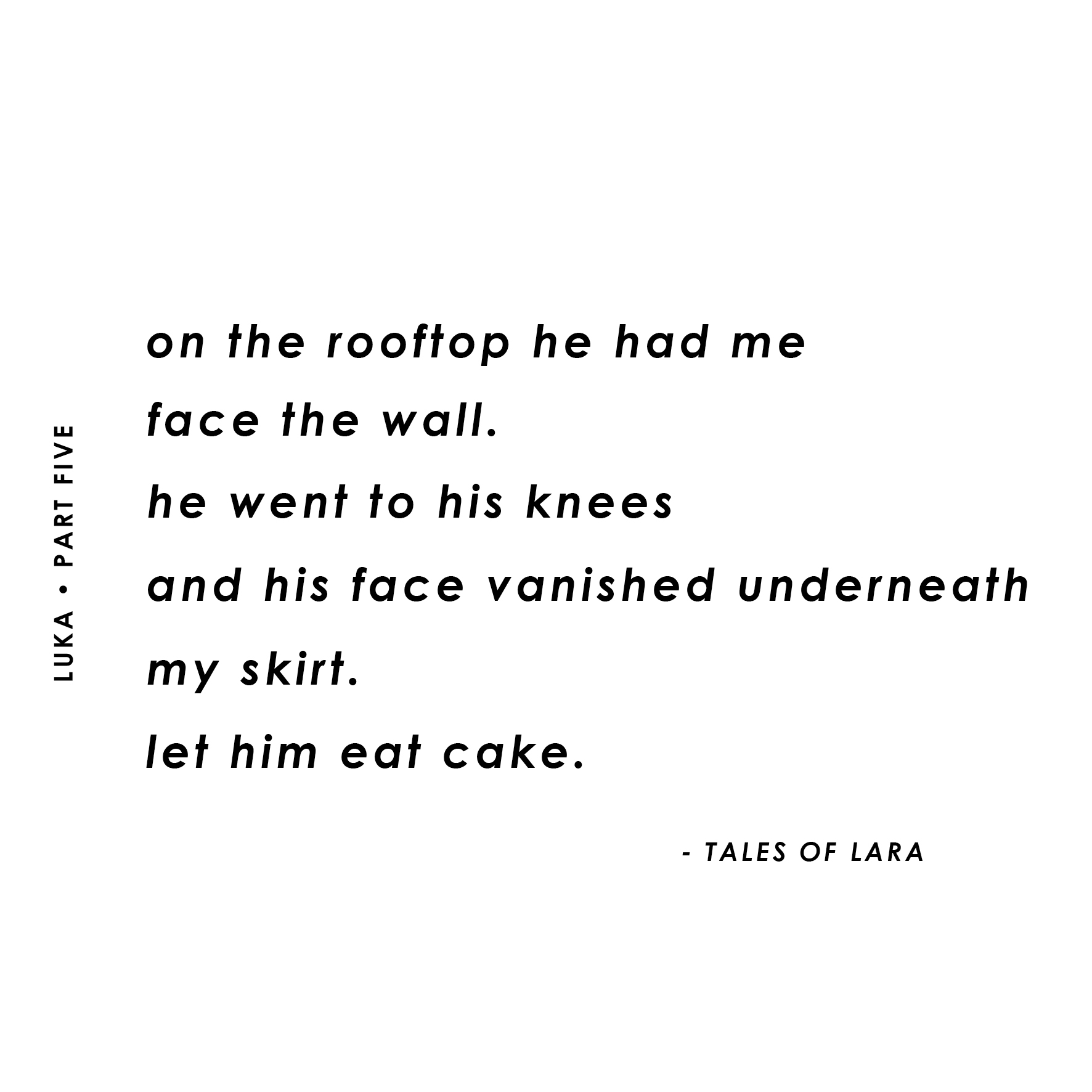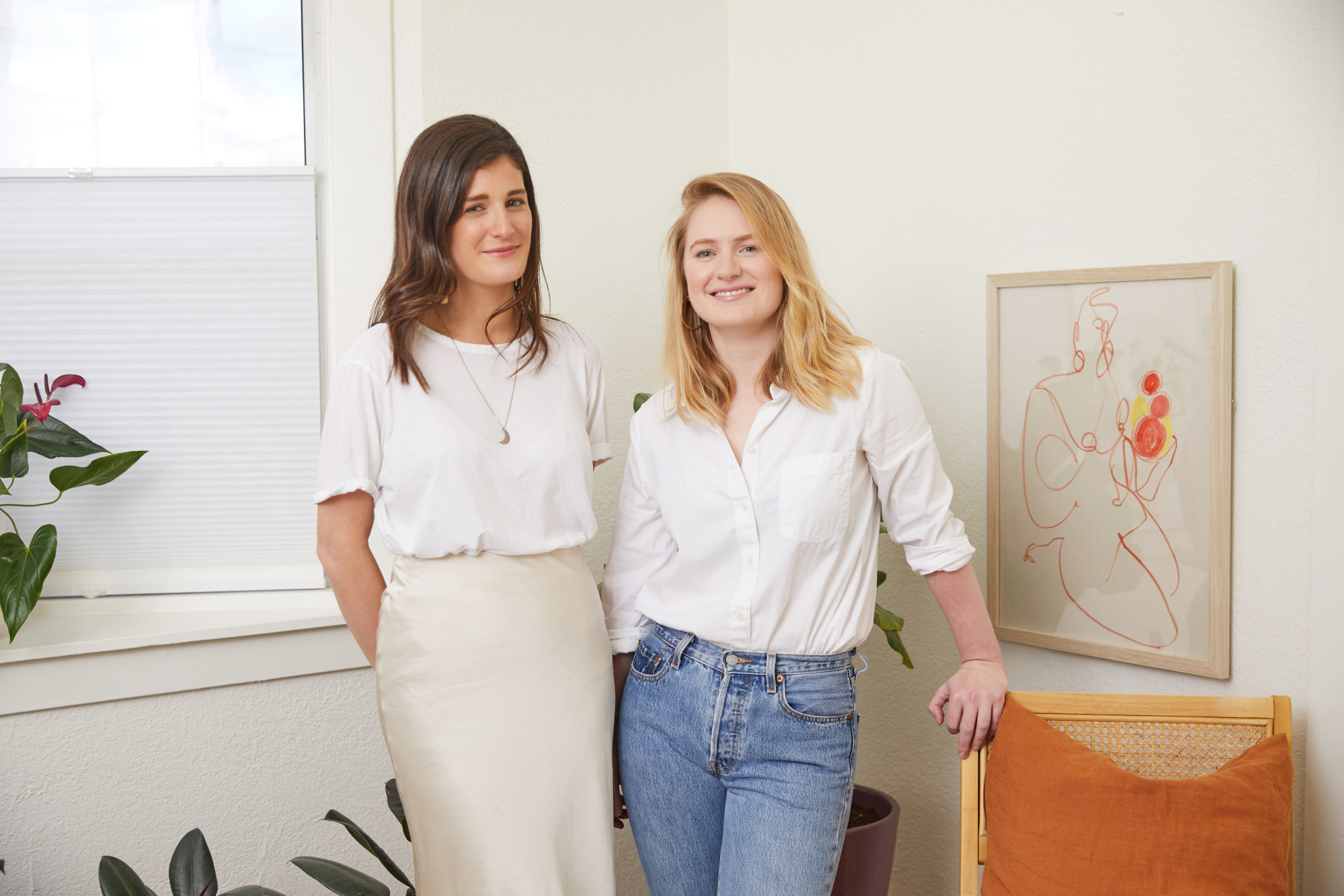 Gina and Faye created Dipsea, an app that let's you explore your erotic tales in audio format. The tales are fun, sexy and rich in their storytelling. Each story focuses on female pleasure, in a way that feels real, not overly scripted.
Cameron Cox is a painter hailing from Brooklyn. Her art, trickled with demons and blood and skulls has a certain magic to it, as if the women she paints are reaching through their sadness and pain to an other-worldly kind of bliss.