ZHANA OLIVIA
ILLUSTRATOR, SIGN WRITER & MURALIST | SYDNEY, AUSTRALIA
read our interview with zhana below
HOUSE OF THEODORA CHATS TO ZHANA OLIVIA
Zhana Olivia is aN ILLUSTRATOR, MURAL ARTIST & signwriter. HER WORK focusses on EMBRACING SEXUALITY AND BODY POSITIVITY. We talked to her ABOUT HER INSPIRATION, THE FINE LINE BETWEEN BUSINESS & CREATIVITY AND WHY A DUSTING OF HUMOUR IS IMPORTANT FOR FEMINISM.
You are a sign writer, mural artist and illustrator. What led you to combine those three particular areas?
It wasn't so much that I combined them, but they all led to one another. I've been able to draw realism since I was 12, but I never considered it as a job of any kind. Then in 2016 I decided that signwriting was a grown-up and practical application of that skill and I pushed that. I love typography and the geometry of it all, but moving more professionally into the art world re-opened my interest in drawing. I suppose murals are just a marriage of the two skills - wall painting and illustration.
Your creations focus on sex-positivity, feminism and body-positivity. In your view, why is it important to create art around these subjects?
It sounds counter-intuitive, but I push these topics into the public domain because I want to change how our culture views nudity by normalising it. I think a massive inequality exists when it comes to the sexualisation of men's and women's bodies. Young girls begin being sexualised almost at birth (child pageants, uniform policing at schools, "schoolgirl" fetishes etc.) and that continues throughout our lives. Society perpetuates the idea that women's bodies are inherently sexual (like demonising breastfeeding - Free The Nipple, anyone?) which allows institutions to continuously and systematically judge a women based on their perception of her usefulness as a sexual object. The more normalised the human body becomes outside of a sexual context, the less it's sexual appeal to others can have a bearing on how we're treated in day-to-day life. It's important to make people question why human bodies make them uncomfortable because it opens a discussion. We all got one, who cares?
Where do you draw your inspiration from?
I don't mean to be all millennial about it, but Instagram is my main research platform for art and feminism. The rest is all just childish shit that makes me giggle.
Instagram seems to have it in for any accounts that support sex, simply lumping them into the "smut" category. What's your view on that?
I mean, sometimes it is smut, I don't deny that, and that's fine. And I don't necessarily have any qualms with platforms drawing their own lines when it comes to "explicit" content, but when you allow blatantly bigoted content but a drawing of a women's nipple is censored, you're making a very specific point about how your company categorises women's bodies. I think Instagram really does have a responsibility to censor and/or present content in a way that influences its viewers for good. I don't always think it does that.
Can you describe your artistic process?
I suppose as a Small Business Artist I have to begin with finding a concept that I think will sell. Give the people what they want, I say. I find a concept that sits well with me and I pair it with an image that sits well on a rich person's wall. What can I say, I'm a sell-out. (I'm joking, but seriously, you gotta find your audience) From there it's just getting reference photos, then a sketch, and then just draw, and draw, and draw, and draw. And draw. I would love to say that I have something that moves in me which pulls my hand around the paper or some shit, but it's really all geometry, patience, and the luck of having a steady hand. Drawing was never difficult for me, creativity was the hard part.
I read on one of your Instagram posts that you feel your style of drawing can be restrictive. Can you elaborate on that?
Well realism is realism and there's very little left to the imagination. I can draw any boring object, but I have to try to make it interesting as well and I suppose that's all I can do. Essentially, the onus is on the concept and composition to deliver a good artwork. I find that part much more difficult, so my creative process can get stalled pretty easily.
What do you hope people take from your art?
All I want from people is for them to see my work and understand my point and not take it too seriously. I think that you need to present serious or heavy topics in a way that's silly or charming to put people at ease. People can get their defences up if they feel attacked by a concept and then you lose them .There's no triumph in shocking someone, but seeing a octogenarian notice a giant penis in a bouquet and start screech-laughing makes my god damn day.
What tunes do you like to listen to when you're creating?
I'm a podcast kinda gal. Or Elton John. I actually found a sex-activist and educator called "Dr Zhana" and she does a podcast about sex ed and it's so good. I nearly died, it's the best namesake situation ever.
Where do you like to create?
I recently got my very own studio. It's got natural light and it's big enough to pin paper up on the wall and draw standing up. It's a dream come true. Also there are dogs sometimes.
Who are the most inspirational women in your life?
My inspiration comes from an amalgamation of all the admirable traits I have seen in all the women I've ever met. But also my therapist is an angel.
FAST FACTS
LOCATION: sydney, australia
WEBSITE: www.zhanaolivia.com
EMAIL: hello@zhanaolivia.com
INSTAGRAM: @zhanaolivia
TYPE OF ART: Illustration and drawing (soon to be tattooing!)
PREFERRED MEDIUMS: pen & ink

SIZE RANGE: from postcards to whole walls
OTHER DESIGN PRODUCTS: tote bags (penis bag? Yes please)
PRICE RANGE: $15 AUD +
COMMISSIONS: yes
WAITING TIME FOR COMMISSIONS: a few days for smaller works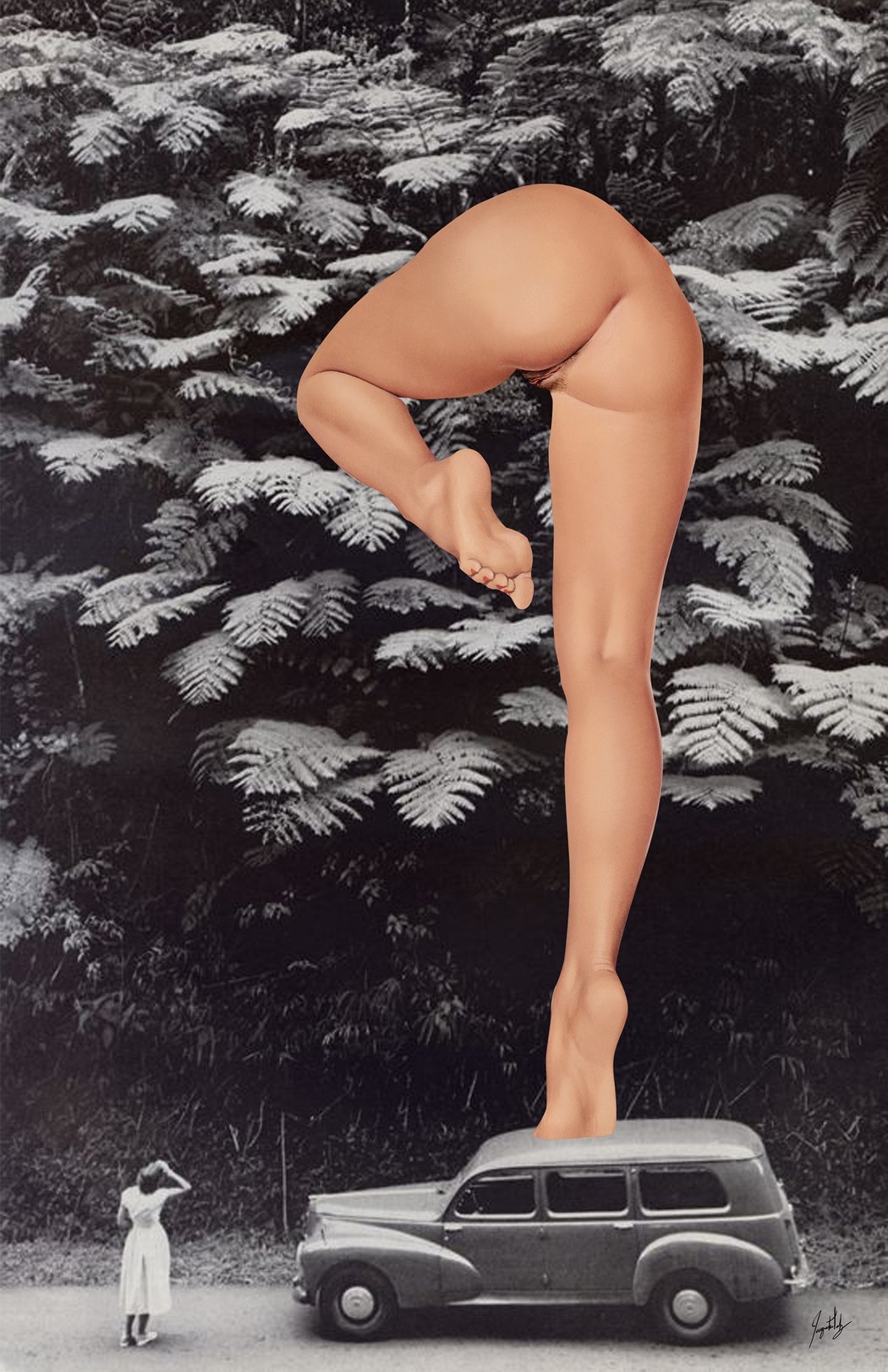 CANADIAN BASED ARTIST, JACQUELINE MAK, CREATES DIGITAL COLLAGES THAT AIM TO EXPRESS A WOMAN'S RIGHT TO SEXUAL FREEDOM.
AURORA IS A MELBOURNE BASED ARTIST. HER WORK FOCUSES HEAVILY ON FEMALE SEXUALITY AND EXPLORES THEMES OF SEX, GENDER, BODY IMAGE, RELATIONSHIPS AND EMOTIONAL FRAGILITY