LETICIA GICOVATE
NIN MAGAZINE | BRAZIL & ENGLAND
read our interview with Leticia below
HOUSE OF THEODORA CHATS TO LETICIA GICOVATE
LETICIA GICOVATE IS THE CO-CREATOR OF NIN magazine. named after the iconic Anaïs nin, the publication is an ode to all women, a beautiful mesh of erotic art, commentary and STORY TELLING. we talked to her about the creation of nin, censorship & her unwavering desire to bring erotica out of the shadows.
Can you tell us about your background? Where you're from? Where you studied? Your loves, your discomforts? What makes you smile?
I'm a countryside girl, raised in a very traditional yet artistic house. As a teenager I moved to Rio de Janeiro, where I studied Advertisement (a big thing if you wanted to be a writer in the late 90's) and Fashion Design, which I never finished. I worked as a Costume Designer and got to know a bunch of cool people like Hugh Jackman and Priyanka Chopra. A "sabbatical" year in Berlin brought me back to the words. I've been living in Nottingham, England; settled down as content editor, writer, Nin co-creator and Catarina's mum.
(but I would leave it all behind to live topless by the sea with my family and lots of books).
You started Nin Magazine in 2015 with Alice Galeffi. Can you tell us the story behind your desire to create an erotic art magazine?
Alice was a young publisher, I had just published a zine combining fashion criticism and art, she liked it and we went for lunch. I showed her some ideas for a magazine, something I was nurturing for a while, she gave me some great insights. We felt sparkles, we were in syntony, we wanted to read and talk about sex, art, philosophy and literature through the female gaze.
I've always been very influenced by the Cuban-French-American writer Anaïs Nin, so the name came from her: Nin Magazine.
interview continues below image
The magazine's name is a tribute to the great erotic writer, Anaïs Nin. How has her work influenced your love of erotica?
It's funny, I can't remember the first time I "met" her. I've always felt a deep connection with the "Roaring Twenties" and the Flappers Girls, and that guided me to a lot of inspiring artists, suffragettes and modernist writers such as Anaïs. For being so undressed, between beds and words, Anaïs Nin was also diminished and snubbed as a writer, self-publishing her books for decades, until being disclosed by the feminist movement in the 70's, a few years before her death.
As a woman and writer Anaïs personified many female archetypes. She was an outsider, an erotic bird, a mystical being, the lover and the wife. Someone who got to live multiple lives deeper than anyone would live even one. My love for erotica came from my love for her.
We live in a world where everyone is online. Why did you choose to start a print magazine in the age of digital?
We never thought about anything else. I was working as digital content editor for the Fashion industry, but dreaming about paper, more consistent information and relevant articles that you don't read in a click. Alice was publishing really fresh books from young writers, our meeting was based on our passion for print.
An interesting and worthy magazine must be something between a design object and a good book. You can choose between just passing your fingers through it, appreciating the images or diving into the reading.
A magazine should be created to reverberate and last, and that's what we wanted to do.
THE FORMER PORN STAR & POLITICIAN Cicciolina graced your first cover in 2015. How did you meet her and why was she your first cover girl?
It was ridiculous, I got obsessed about her. I mean, as a product of the 90's I knew who she was, this infamous blond porn star who flirted with politics. Then I learned that she was once a spy in communist Hungary, then a model in Italy, and then she was starring and co-producing her own worldwide pornographic movies.
It was the end of the 70's and she had this hippie look, with a childish voice and flowers on her hair, but she wasn't fragile, she got it all under control, she owned it, and she still does.
She was elected to the Italian parliament by the Green Party in 1987, campaigning for freedom, peace and love. She wasn't re-elected.
After that she married the American artist Jeff Koons, one of the most powerful men in the art world, then she left him three years later, and we never got to hear about her again.
Why? This is such an astonishing woman, I wanted to listen to her, I wanted everyone to know more about her.
I sent an email and she answered, the three of us talked and negotiated for months. She is as bright and tough as I'd imagined. I'll always love this cover and be grateful to her!
interview continues below image
You've published three editions, how has the magazine evolved? Can you take us through the process of creating an edition of Nin.
Our first issue was this hedonistic adventure, it was only the two of us, drinking some wine and contacting amazing people that had never heard about us, telling them about this new erotic art magazine, curated by women, and inviting them to be a part of it without any financial return. Surprisingly they all said yes.
It was a fun ride to bring erotica out of the shadows, subverting the female role from being solely the muse to the creator, curator, editor and thinker, owning our own bodies and ideas on nudity and sexuality, both politically and artistically.
Our second issue was our rebel daughter, the cover was a gorgeous trans model, the content was more explicit and feminist, we were angry, and we wanted to express it.
In our third issue we reached our maturity, we were both mothers starting over and living abroad (I'm in England and Alice is in Portugal) we wanted to talk about it. About the beauty and the extreme demands of being a woman, a mother and yet a sexual being. About the utopia of the female wholeness.
The edition was made through FaceTime and WhatsApp messages; the cover is the Brazilian actress Débora Nascimento proudly exhibiting her 8-month pregnant belly, and we couldn't love it more.
Where are your readers and what are THEY like?
Nin Magazine is on sale in Paris, London, Lisbon, Nottingham and Berlin, besides Brazil, of course, and we really want to expand it. They are mostly women, but at least 30% of our readers are men, which is important because we never thought about excluding them from the conversation, Nin is made for everyone (+ 18!).
You hail from Brazil, which remains a largely catholic country. Can you enlighten us about Brazil's relationship with sex?
Brazil is a steaming hot tropical country, so we are used to expose our skin from the boiling beaches to the crowded streets. We have the Carnival with its explosion of nakedness and joy. We are friendly, spontaneous, talkative and many other clichés. It's an easy assumption that we are quite open about our nudity and sexuality. That is not entirely true.
Right now Brazil is being ruled by a far-right president, an openly misogynist, racist and homophobic man, who was democratically elected. This is so upsetting, I would need another interview to talk about it L
As well as the magazine, you created a social media self-love campaign called "Anoninmous" where people send you images of their naked bodies, anonymously, and you share them on social media. Can you tell us about the moment you decided to create that project?
Nudes are a portrait of this generation, this is a Zeitgeist, a new form of expression, a new kind of art, a new kind of sex! It's potent and vulnerable, it's intimate, intentional and true.
"Anoninmous" is a glance through the keyhole, this secret room where one can be exhibitionist and voyeur, where we can show the beauty of all the bodies, celebrate diversity and have some fun.
We started spontaneously, cause I wanted to share nudes from my friends, things that we were sharing between us on a WhatsApp group, you know? Before sending it to our dates. So I realized that it was much more interesting than any other posed image, than everything else that I was sharing on @ninmagazine.
Then suddenly #anoninmous was receiving almost 50 nudes a day. Now it's time to move forward and turn it into a book.
Instagram and its parent, Facebook, abhors erotica, sex and the naked female body. As such your social media presence is subject to censorship and your account has been suspended once already. What's is your take on censorship, and importantly, how do you ensure Nin has a presence outside of the confines of social media?
Oh well, we were banned from Facebook some years ago and we had just been suspended for the second time on Instagram. I've been talking to a lot of "female erotica" friends from Instagram, such as Tales of Lara and Burcu Daria, and we want to shout out about biased misogynist censorship on Instagram.
We are always very cautious about the Guidelines, selecting and editing images that would fit on it. We have been walking in thin ice while thousands of male-oriented profiles have been exposing free rates of explicit porn content and female nudes to a much larger audience. So we wonder why.
I'd like to understand the censorship criteria, 'cause it is, once again, restraining the freedom of our expression and allowing men to use our nudity and our bodies as they want. We believe in coexistence, but we are the only ones being banned from the paradise.
What's been your greatest professional triumph and greatest challenge since starting Nin Magazine?
The #anoninmous project might be both. It's thrilling to receive so many brilliant pictures and feedbacks from all over the world. People telling me how empowered, excited and liberated they felt after showing their nudes anonymously.
The counterpoint is all the struggle with this partial and outdated censorship, and all the suspensions from Instagram.
It's frustrating and exhausting. There might be a way to share artistic erotic content with an elegant restriction, without the banishment. Without feeding the idea that sex belongs to darkness, that the naked body is something to be hidden, to be ashamed of.
Are there any assumptions that you had about starting an erotic art magazine that have completely surprised you?
We were very, very naïve, and I must say, that was something good. I couldn't believe that some shops would feel intimidated by a female erotic art magazine; that we would suffer any kind of retaliation from social media, although we have been always getting wonderful support.
It's been almost 5 years and a lot has changed. While politically the world seems to be walking backwards, we can feel the growing heat of female empowerment.
There are many amazing online businesses such as yours, educational podcasts and empowering profiles on Instagram. There is the Cannabis industry that is full of amazing women researching the effects of the plant's chemicals over the female pleasure and PMS pain.
This is an ongoing revolution, and we are very proud to be a part of it.
What are you currently working on?
Our next step is move back to paper, we are having conversations with publishers about turning our uncensored and stunning "anoninmous" into an art book.
We are also looking for a distributor to share Nin Magazine worldwide. We would love to be in Australia, so please beautiful stranger, get in touch with us!
Anais Nin is obviously an incredibly inspirational woman. Who are some other women, living or passed, that we should know about?
I've been deepening my research on the Sumerian high priestess and poet Enheduanna, who is possibly the first ever known author in world history. We should all know about her!
Louise Bourgeois, Nan Goldin, Georgia O'Keefe, Tracey Emin, Joan Semmel and Julia Debasse (the two latter are featured on our third issue) are artists whose work is always inspiring.
Also the words of Clarice Lispector, Virginia Woolf, Emily Brontë, Françoise Sagan, Katherine Mansfield and Dorothy Parker.
And the looks of Louise Brooks.
Tales of Lara is the persona of an American writer whose short form erotica has garnered quite the following. She matches sultry tales with photography that never reveals her identity but hints at an empowered and sexually confident feminine force who may or may not be called Lara.
Carly Pifer runs Aurore, a website dedicated to publishing real, raw, non-fiction erotica. We spoke to her about her journey into the world of erotica and her love of good storytelling.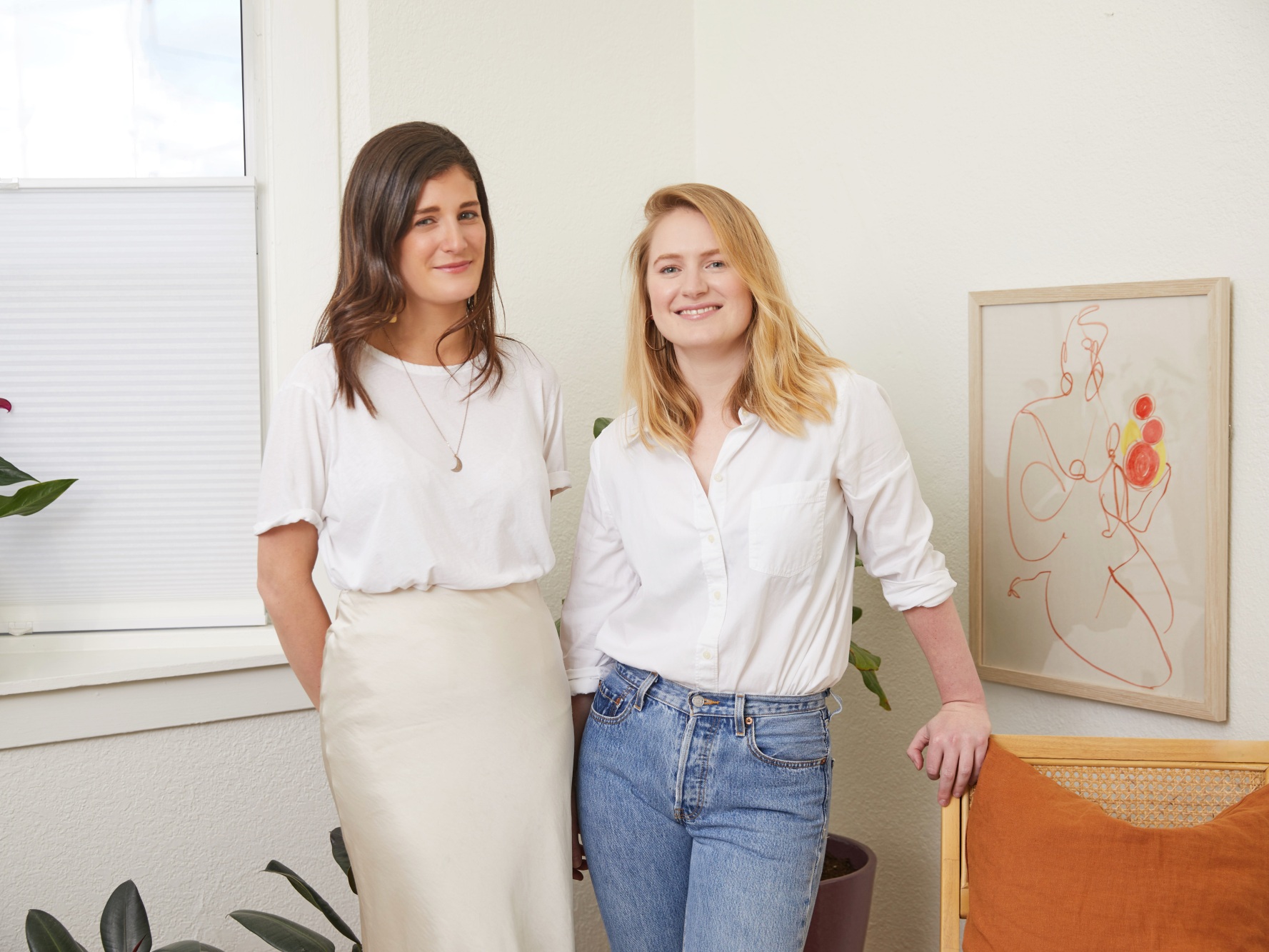 Gina and Faye created Dipsea, an app that let's you explore your erotic tales in audio format. The tales are fun, sexy and rich in their storytelling. Each story focuses on female pleasure, in a way that feels real, not overly scripted.